THE LANDLADY
Directed by Sachi Hamano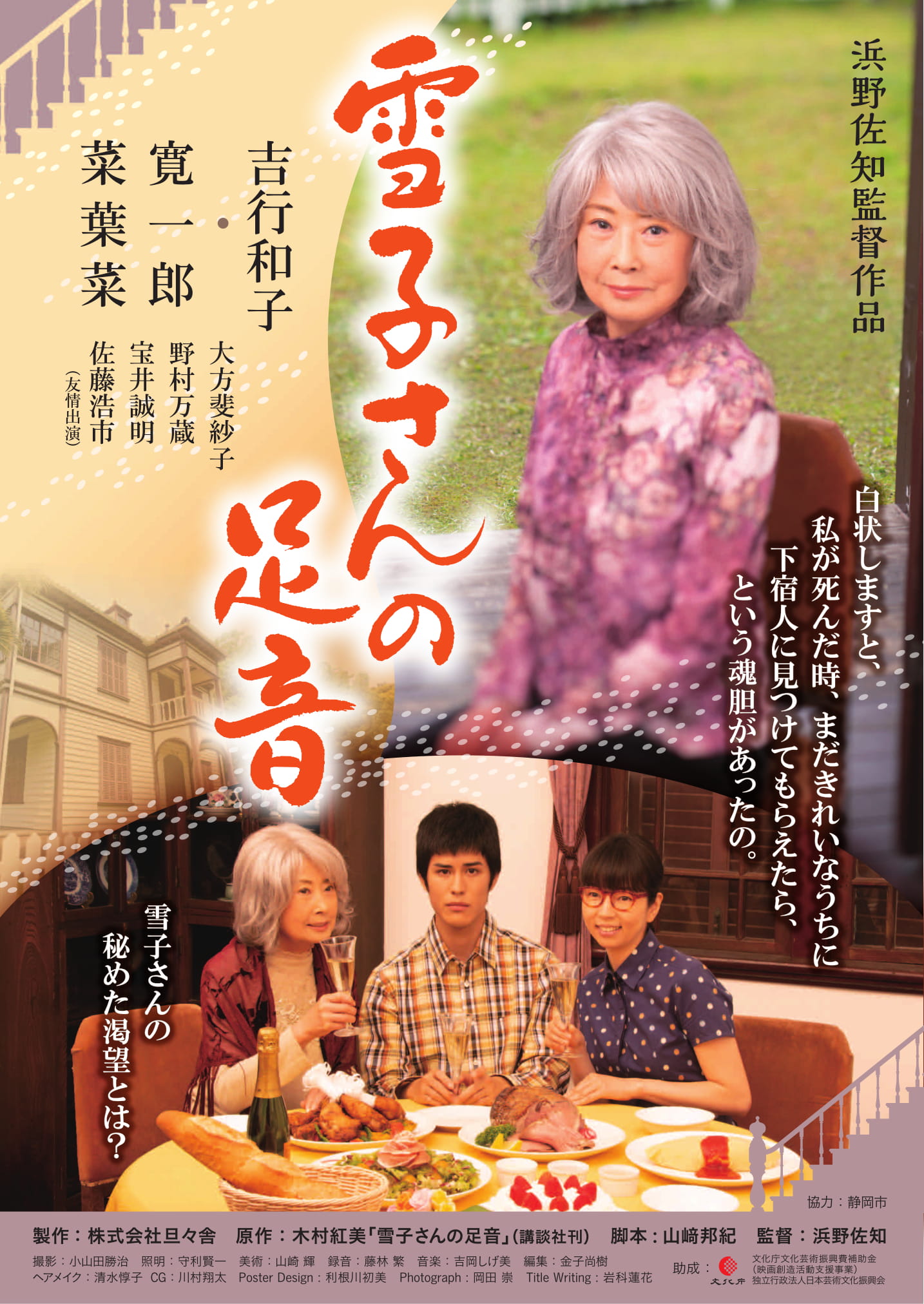 To tell the truth, I had the hope that my lodger would find me before I lost my beauty when I died alone.

What kind of person was Yukiko? What did she long for ?

While on a business trip to the town where he'd lived as a student, civil servant Kaoru Yusa learns that his landlady from 20 years earlier at "The Moonlight House," Yukiko Kawashima, has died alone of heatstroke at 90 years old.

Reading the news reminds him of the summer of his third year of college when two women – Yukiko and Onoda, another lodger – nearly suffocated him with their excessive doting.

After the death of her violent and parasitic son, Yukiko had opened up her living room as a kind of salon for her lodgers. Onoda, who worked as a telephone operator, became a regular and Kaoru soon was invited to join them.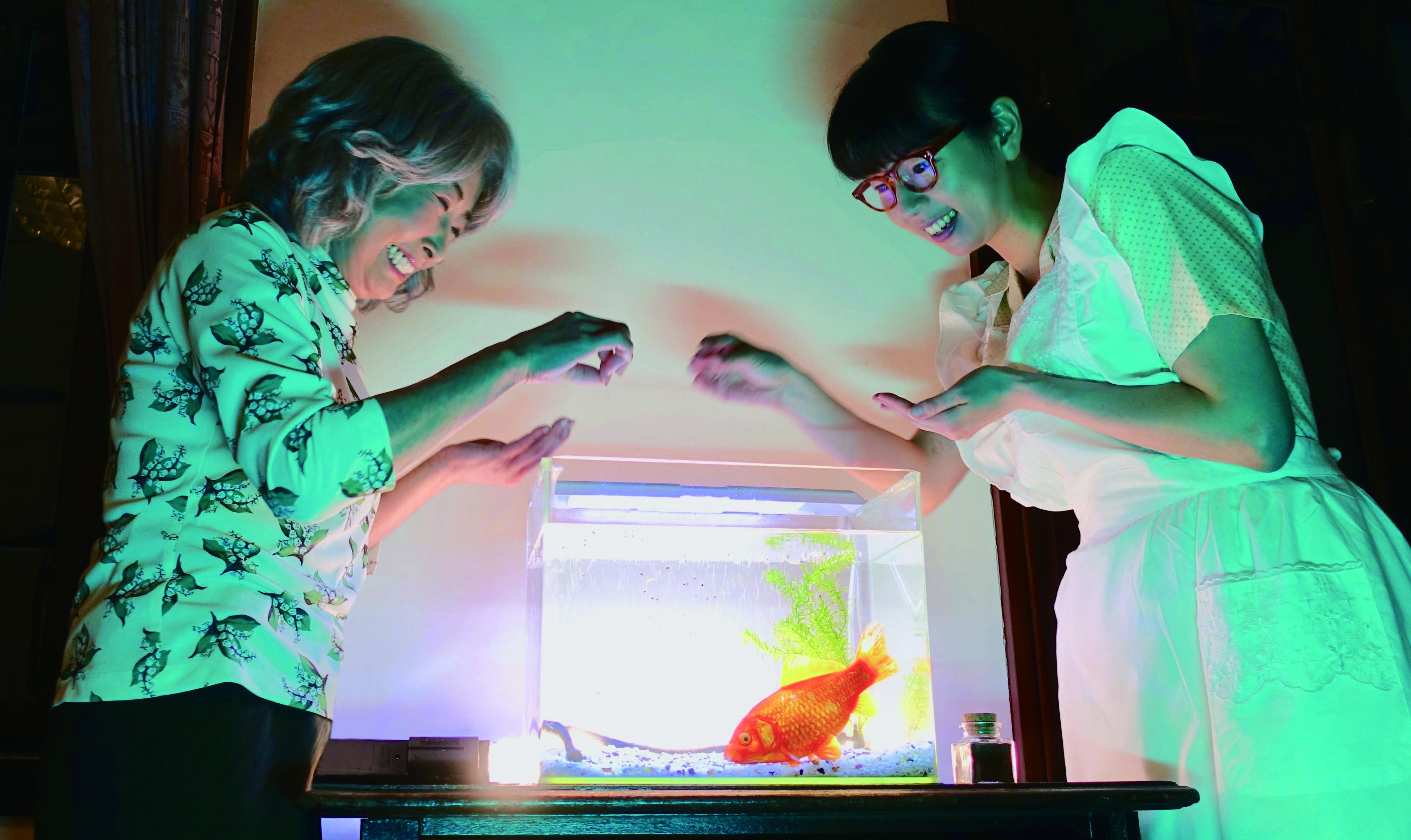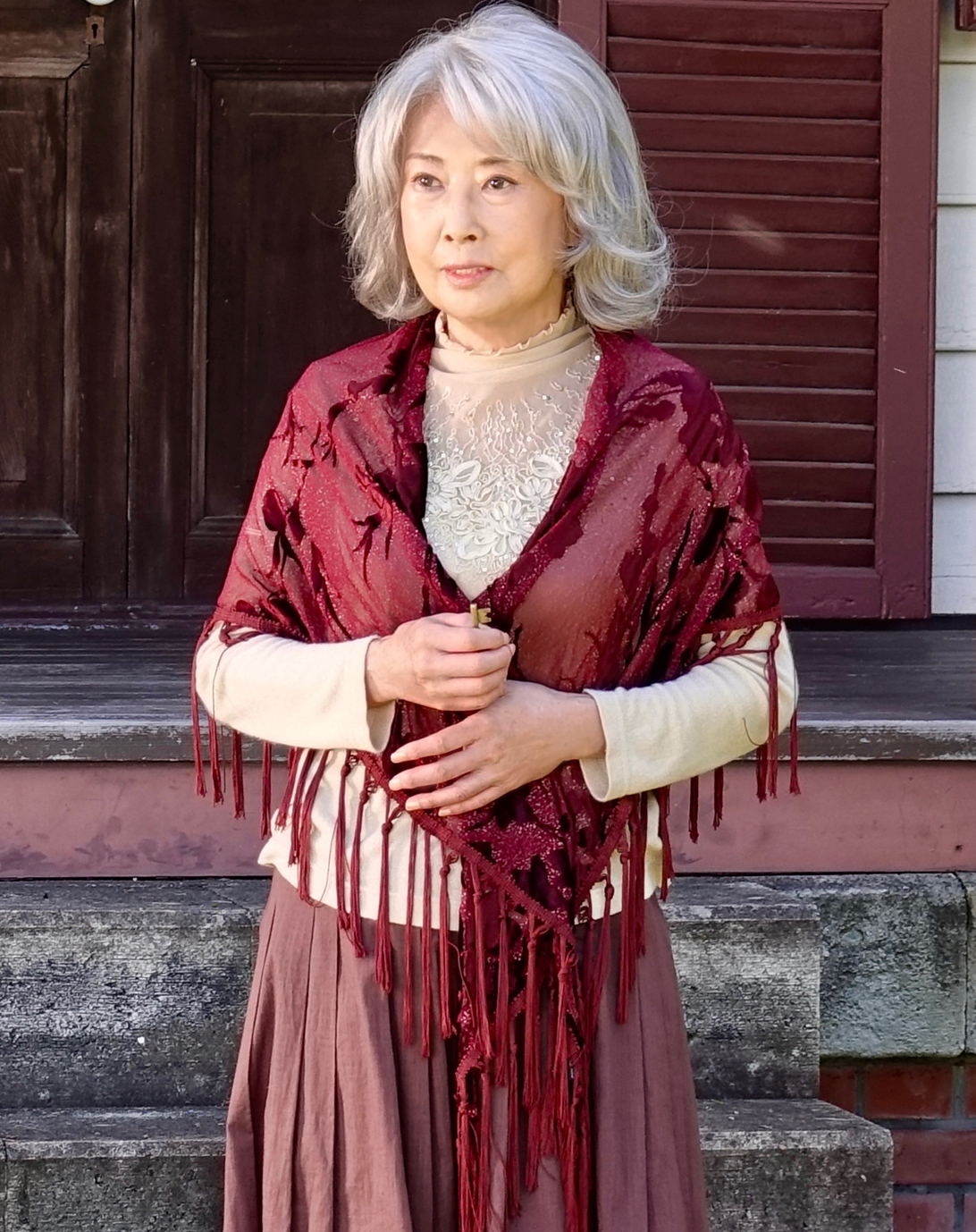 Kaoru found Yukiko to be an extremely cultured and sophisticated lady and Onoda to be someone with complicated feelings about her family and work. When Kaoru half-jokingly mentions that he wants to become a novelist, the ladies enthusiastically offer their support.

Yukiko not only offers to feed Kaoru in the salon, but she even insists on delivering food directly to Kaoru's room. She announces her desire to become his patron and starts sneaking him an allowance.

Onoda also promises to do whatever she can to help Kaoru become a novelist, offering him her body for sex. Onoda's greatest desire is for the two of them to be adopted by Yukiko so that they can all live together as a non-blood related family.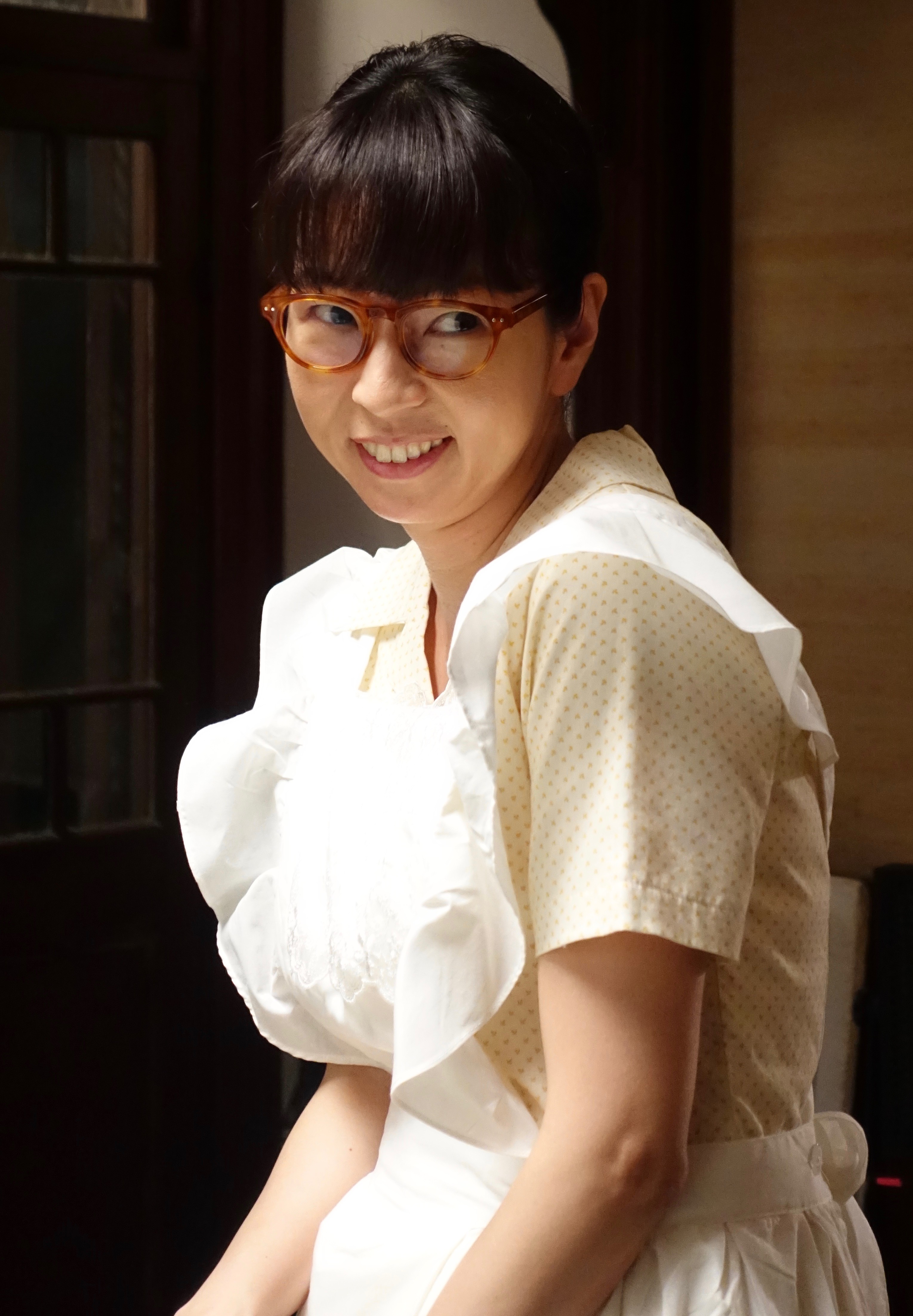 Eventually, Yukiko's kindness and Onoda's fixation on him become torturous for Kaoru. At first, he thinks he can exploit this attention, but afer a while the magnitude of their desire and all the energy it takes scares him off and he flees.

Now, 20 years later, Kaoru heads back to visit "The Moonlight House." While checking Twitter on the train, he sees how many people are tweeting about what a nice landlady she'd been to them.

However, all the stories of Yukiko contradict what she told him. Kaoru wonders whether she would just tell people whatever they wanted to hear.

Maybe she enjoyed to fabricate this mix of reality and fantasy in an effort to strengthen relationships with her tenants because she was lonely?


After everything that went on at the house, Kaoru continues to have a hard time with women and is still single and living alone. He hears that Onoda still lives in the house and one day at the station she proudly walks right past him on her way back from Southeast Asia.

For the first time, Kaoru sees a shadow of failure cast over the experience the three of them had in that house and it strikes him that he probably left something important behind there.

The attraction he felt toward the 70-year-old woman was something a 20-year-old Kaoru wasn't ready to see. But now, with Yukiko having passed, Kaoru confronts those subsconscious feelings in a world beyond reality.

It dawns on Kaoru that Yukiko was so much more than a nice old landlady. Twenty years later she walks out of the darkness as the woman she really was to him and he can hear her footsteps walking towards heaven from the house.
THE Profile
Sachi HAMANO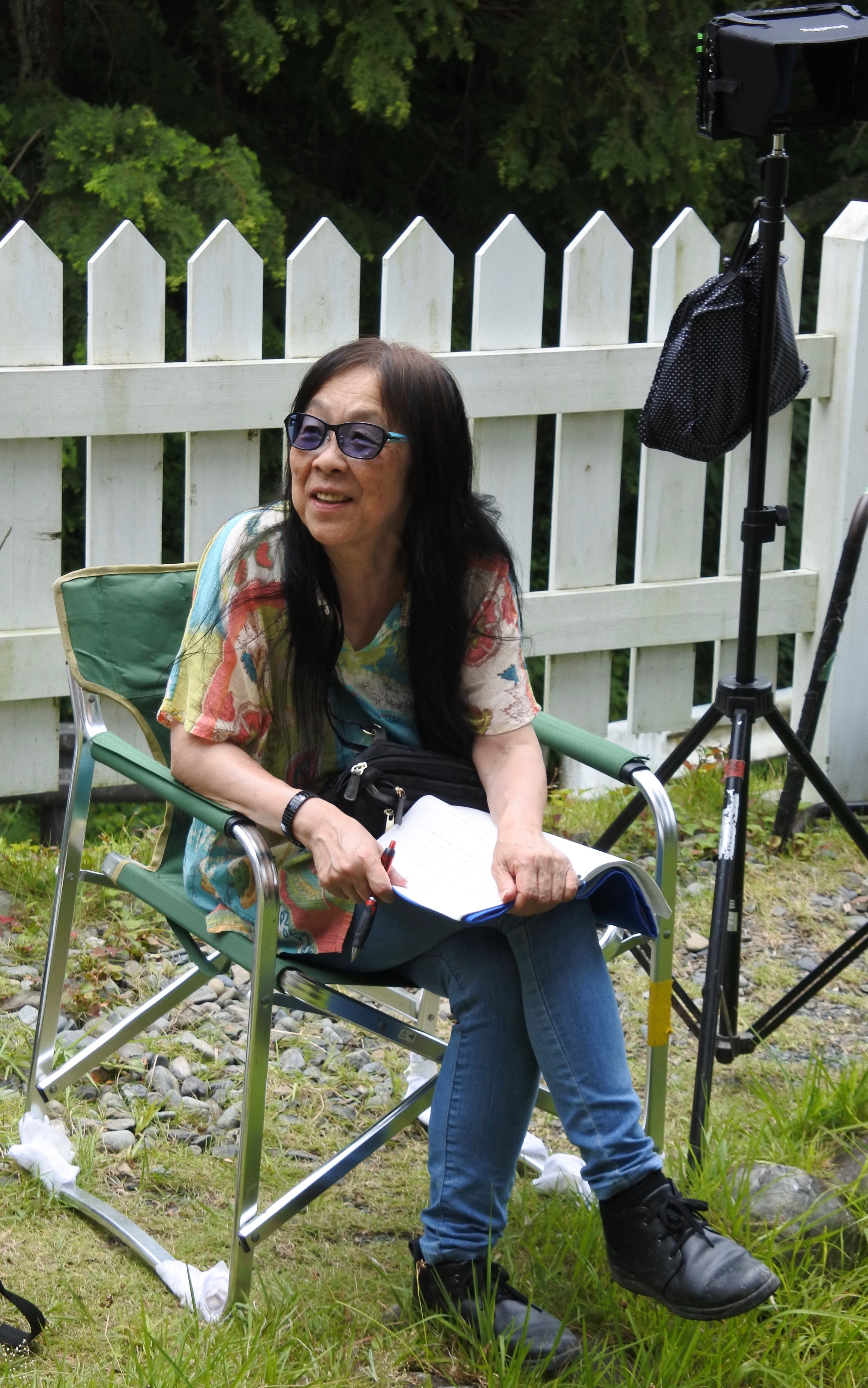 Born in 1948, HAMANO Sachi decided to become a movie director while she was in high school. Her dream was to create films in which she depicts women from a woman's perspectives, rather than based on stereotypes assigned to different female roles, such as a mother, a wife, a daughter, and a prostitute.
She came to Tokyo and sought a way into the world of filmmaking, but at the time the Japanese movie industry was extremely male-dominated, and there were almost no studios willing to hire women as potential directors.
What she decided to do was to work in the soft porn industry to gain skills required in filmmaking. Although it was a genre which had been accused of commoditizing women's bodies and sexuality for male sexual desires and disdaining women, and since there was no other way for a woman to become a filmmaker, she decided to enter the industry. Beginning in 1968, she worked as an assistant director in independent production companies, and in 1971 she made her debut as a director.
In 1984, she founded her own production company, Tantansha.
Since her debut in 1971, working as both producer and director, she has released over 300 films dealing with sexuality from a woman's perspective.
In 1998, she produced the independent film "In Search of a Lost Writer: Wandering in the World of the Seventh Sense," which depicted the life and work of the nearly forgotten female writer, OSAKI Midori.
Funding for this film was partly provided by donations from over 12,000 women from all over Japan, as well as The Japan Arts Fund and The Tokyo Women's Foundation.
The film was screened at the Tokyo International Film Festival and at the Japan Independent Film Festival, in which it won Hayashi Amari Prize, and several other film festivals, including women's film festivals in Germany, France, America, Egypt, and Korea.
Hamano was awarded the 4th Women's Culture Prize in 2000 as well.
In the same year, she encountered MOMOTANI Hoko's novel portraying sexuality among the elderly, "Lily Festival (Yurisai)," and was determined to adapt it for the screen.
With the support from The Japan Art and Culture Fund, she completed production on "Lily Festival" in 2001.
"Lily Festival" was screened at a number of women's film festivals both inside and outside of Japan.
"Lily Festival's" film screenings in Japan included the 14th Tokyo International Women's Film Festival, the Aichi International Women's Film Festival, the Kyoto Women's Film Festival, and the Japan Conference on Women, 2001.
In the following year, "Lily Festival" won the second prize in the lesbian long film section of the 9th Turin International Women's Film Festival, and in 2003, it won first prize at Philadelphia International Gay and Lesbian Film Festival and the Mix Brasil, Festival of Sexual Diversity.
In total, it was screened at 48 film festivals in 18 countries, including international women's film festivals in Hong Kong. Taiwan, Bordeaux, Siena, and The Montreal World Film Festival.
Among 48 festivals, Hamano visited 20 of them.
"Lily Festival" was screened not only at film festivals, but also at a number of universities in the U.S., where Hamano also gave speeches.
The universities she visited include University of Pittsburgh, Columbia University, and Michigan State University.
From January to March of 2002, Hamano visited France as an artist/researcher sent by the Japanese Ministry of Culture.
She conducted research on "Women, Film, and Activism: an Approach to the Meaning of Women's Film Festivals in Today's Society."
In January 2005, her book, Onna ga Eiga wo Tsukuru! [Women Make Movies!] will be published from Heibon-sha Shinsho.
In 2006, "The Cricket Girl" was completed.
And the "Yoshiko & Yuriko" which was the plan of 15 years of wish was completed in 2011.
In 2014, "BODY TROUBLE" On the theme of gender, it completes as first digital work.
In 2019, "THE LANDLADY" completion.
「THE LANDLADY」 Data
Original title:Yukikosan no ashioto
English title:THE LANDLADY

Category:Feature film
Date of completion:2019

Language of dialogue:Japanese
Subtitle language:English

Technical Data
Format:DCP, Blu-ray, DVD
Running time:112min
Colour:Colour
Standard:NTSC
Aspect ratio:16:9
Sound:Stereo5.1

Credits
Director:Sachi HAMANO
Scriptwriter:Kuninori YAMAZAKI
Dir. of photo:Katsuharu OYAMADA
Music:Shigemi YOSHIOKA
Art director:Teru YAMAZAKI
Editor:Naoki KANEKO

CAST
Kazuko YOSHIYUKI
NAHANA
KANICHIRO
Hisako OKATA
Manzo NOMURA
Masaaki TAKARAI

ADDRESS OF DIRECTOR : Sachi Hamano
7-12-3,Hontori, Aoi-ku, Shizuoka-shi, Shizuoka Prefecture, JAPAN 〒420-0064
Tel&Fax : 81 54 272 1692
E-MAIL : sachi_ha@d8.dion.ne.jp
http://tantansha.main.jp/

PRODUCTION COMPANY : Tantansha CO.,LTD
PRODUCER : Sachiko SUZUKI
YEAR OF PRODUCTION : 1984
ADDRESS : 7-12-3,Hontori, Aoi-ku, Shizuoka-shi, Shizuoka Prefecture, JAPAN 〒420-0064
Tel&Fax : 81 54 272 1692
E-MAIL : tantan-s@f4.dion.ne.jp
http://tantansha.main.jp/